Winter Outpost Event
8-10 January 2010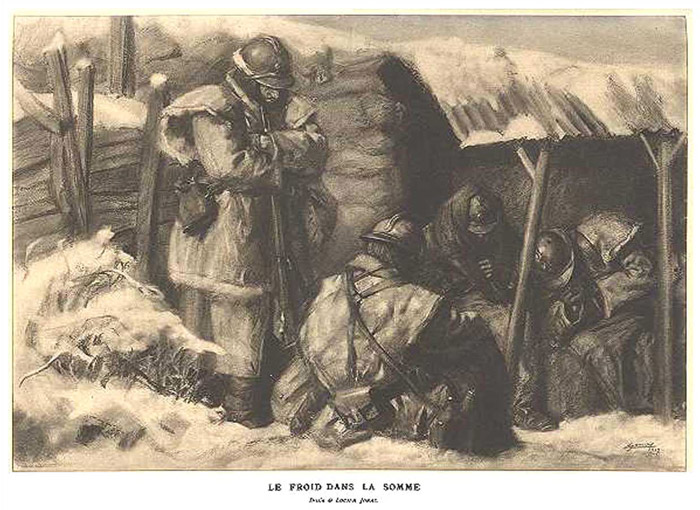 Date:
January 8-10, 2010
Times:
Tactical Friday 6:00 pm to Saturday 9:00 pm
(a social will follow end of tactical)
Impressions Permitted:
Allied: French, American, British and Commonwealth
Central Powers: German
Scenario:
Winter of 1917-18, first-person.
The theme for this event is daily trench routine. This means a relief march to and from the front, sentry and look-out duties, work fatigues, possibly training exercises (hand-grenades), etc. Nighttime activities include the establishment of advanced posts, and sending out of wiring parties and patrols. Combat operations will be kept to a minimum. Though nighttime raids are allowed, I would like to avoid them if possible. Again, the purpose of this event is to recreate the average day/night in a front line trench. First-person is to be maintained by all attendees for the duration of the event. Casualty chits will be used at this event. Sniper-fire (or rather, the effects of) is to be strictly observed.
Added to the experience will be the challenge of dealing with winter conditions. All attendees are hereby advised in advance to adequately prepare for such conditions. In addition, all are expected to remain in attendance for the duration of the event, excepting those conditions addressed below in "Inclement Weather Contingency." After all, the point of this event is to be cold and miserable.
Remember, these events are only as good as you make them.
Weapons:
Small arms and Class III weapons allowed.
Boundaries:
TBD based on number of attendees. The active zone will necessarily be condensed. I envision the battlefield encompassing the southern sector. However, this is not set in stone. The lines will most likely be irregularly drawn in order to allow for certain bunkers to be utilized, along with approach routes between these and the front.
Bunkers:
For this event, the purpose of bunkers is to act as a temporary relief for brief periods of rest. Ideally, the trenches will be manned for 24 hours, with a force of troops always on active duty. As iterated above, the purpose of this event is to experience a prolonged period of being out in the cold. As the event will only last for 24 hours (save for the few hours of sleep attendees might catch in the bunkers), I see remaining outside for that entire period as an achievable thing. If you don't feel so inclined, this might not be the event for you.
Specific bunkers will be open based on which units attend the event.
Fees:
TBD. Please see the section on "Food" below.
Food:
All food and beverage should be based on correct daily rations. Each force (French, American, British, German) is responsible for feeding itself. As such, any fees due are based on the costs incurred for food and beverage on a per-army basis. It is left to the event organizers in each army to supervise supply and distribution of food, and the collection of fees.
Event Coordinators:
The event organizers are as follows:
French: John Bracken (Jean Contamine) - bracken99@hotmail.com
American: Vince Petty - Ludite64@aol.com
British/Commonwealth: Rich Montcrief - rmoncrief@Zeiss.com
German: Randall Chapman (Fritz Hoffman) - hoffmannir63@gmail.com
Inclement Weather Contingency:
For safety purposes, the organizers reserve the right to call off the event in case of hazardous weather conditions, such as heavy snow, ice or dangerously low temperatures (near or below zero). However, some latitude is to be expected when organizing a winter event. So please be adequately prepared for the cold.
First-Responders:
Ambulance and fire crews will be notified of our presence at the site but will not be on-hand.
Lavatories:
Status of open port-a-johns is TBD. Otherwise, lavatory facilities will consist of the woods.
A bientôt!