Firearms
les Revolvers et les Pistolets (Revolvers and Pistols):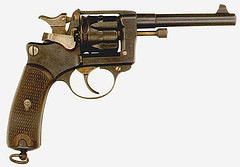 Basic stats:

Length: 9.5 in.

Length of barrel: 4.6 in.

Length of line of sight: 5.7 in.

Height: 6.7 in.
Weight empty: 1.8 lbs.

Weight loaded: 2 lbs.
Class: revolver

Caliber: 8 mm

Barrel capacity: 6 rounds

Ammunition: 8X27R

Primary ammunition used: standard model 1892 bullet (bullet: 7.9 gm, brass-jacketed lead, .73 gm charge of special black powder

Muzzle velocity: 218 m/s (715 f/s)

Initial energy: 19 kg/m (42 lbs/m)
Average rate of fire: 12 shots per min.